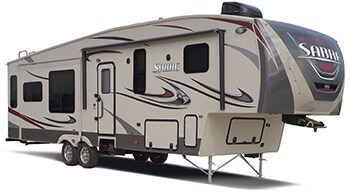 Sabre Travel Trailers offer you a luxury product without breaking the bank. Features like a 6 gallon water heater and a large 8 cubic foot refrigerator are standard. 
Sabres are loaded with convenient features like a cell phone charging station and marine grade exterior speakers.
Our construction doesn't mix wood studding with aluminum studding like other brands. Sabre utilizes welded aluminum superstructure for your walls, floor and roof. Join the Sabre family, you won't be disappointed.